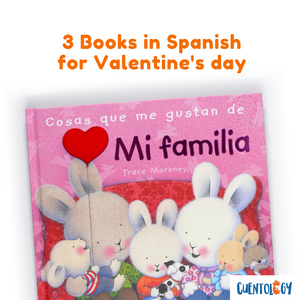 3 Spanish language books to read this Valentine's day with little ones
For a few days, I have been thinking about this blog post and which books I would be recommending for Valentine's day. Spanish love songs are playing in the background and I am re-reading books to select them for this list. And my head is buzzing with all the wonderful love stories I have curated for you. We have a couple of selections from board books for little ones, picture books for all ages, chapter books and even books for adults. These are our recommendations for little kids. Stay tuned the next few days for recommendations for older kids.  
 

Author: Smriti Prasadam-Halls

Illustrator: Alison Brown

 A sweet board book about unconditional love.

Te quiero noche y dia is a story that could be seen as a parent-child relationship, friendship, or even a couple, where no matter what, where, or when, I love you always.

The illustrations are soft and dreamy, and the scenes a visual metaphor for all the highs and lows relationships go through.

A book to put into words all the different ways we can love someone. This book is a beautiful gift for any new parent.
Authored and Illustrated byTracey Moroney

Cosas que me gustan de mi familia is a great book to talk about positive family relationships and our roles in the group.

The book is written in the voice of our bunny protagonist, who describes who is his immediate family, including pets, and how mom and dad parent him. They take care of him, make him feel loved, understand his feelings, and talk to him through good decisions or bad.

They also help everyone in the family feel loved, accepted, safe, respected, and special. They talk about what these feelings mean and how to show them to each other. Then we go on to learn about different family sizes, extended family, and how good it feels to belong.  

We love that the focus of the illustrations is on the characters and the fluffiness of the bunnies.

This book is great to teach the verb gustar, querer and to discuss positive feelings. We like it because it can be used to write Valentine's cards to parents as it puts into words all the things parents do for a child everyday to make them feel loved.
Authored and illustrated by Rocio Bonilla

 Minimoni is a regular kid who loves to ride her bike like the wind, eat pastelitos and hear her mother tell her stories. But what she loves the most is drawing. She has drawn all sorts of things, ladybugs, skies, and bananas, but she has never drawn a kiss. What color could a kiss be?

¿De qué color es un beso? is a lovely illustrated book where Minimori walks us through all the different colors a kiss could be but it is not. "Red like a delicious spaghetti sauce? No, because it's also the color of anger. Could it be green like crocodiles, which always seem so nice? Impossible, because it is the color of leafy greens and she doesn't like them!". This is a fantastic book to read with little ones and then prompt them to think of other things or emotions evoked by a particular color. It is one of our customers' favorites and we like to use it for writing funny Valentine's day cards. 

You can now find these and other titles perfect for Valentine's day here.
With love,
Daniela
---