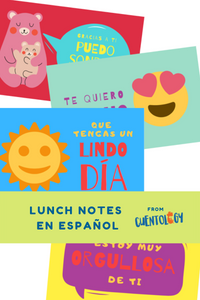 School Lunch Notes in Spanish
This has been an interesting Summer. Every year I feel Summer breaks are getting shorter and shorter as our kids grow. Don't get me wrong having older (just a tiny bit) more independent kids is great. However, I have found the older they get, the harder it is to maintain a connection and tell them in meaningful ways that I love them.
Earlier in our parenting life, making beautiful Bento school lunches was a goal of ours (for like 20 sec). We found our creations improved the happiness rate in all of us, but not the eating rate of our kids. This past year I have wanted to focus more on adding printed Spanish materials everywhere in our environment. And making adorable lunch notes in Spanish seemed like a great place to start the school year. Why add printed material to our environment in the minority language? To use a great strategy I first heard of from Adam Beck of Bilingual Monkeys. Adam says on his blog:
Basically, captive reading is a method for increasing a child's exposure to reading material by posting stories and other texts in the bathroom or another "captive location." Because exposure to reading is at the heart of raising a child with good language proficiency, captive reading is an important tactic for enhancing this exposure on a daily basis. As a rule, the more exposure to books and other texts a child receives, the stronger that child's language ability will be, in all skill areas.
If this is your first time reading about this strategy, check out Adam's article on 
Captive Reading
. His blog and book, Maximize your Child's Bilingual Abilities, are filled with information on how to raise bilingual kids, and I only wish I had found it much earlier in our journey.
To get this printable and more information about our books, enter your email below. You will be redirected to download the file. And remember, sharing is caring, so use the links below to share these lunch notes with a friend.
---